Social gaming company Zynga reported a net loss of $108 million for H1 2012 compared to profits of $18 million in the first half of 2011. Zynga blamed Facebook for promoting other games upon its social networking site and the waning of enthusiasm for the recently acquired Draw Something game IP.
In after hours trading in the US Zynga's shares dropped as much as 40 per cent. In December the company was floated at a price of $10 per share, following this latest poor result the shares will be worth less than $3. Zynga games make up seven of the top ten Facebook games and account for nearly 15 per cent of Facebook's revenue, so the results have also had a knock-on effect on Facebook shares, which declined nearly 8 per cent in afterhours trading.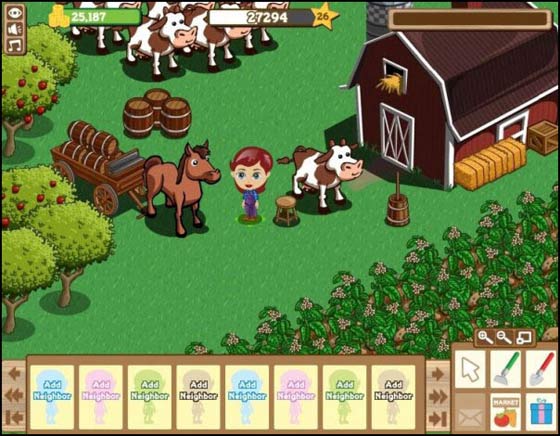 Farmville in-game action scene
During this half year Zynga has had the substantial extra expenses of acquiring OMGpop for $200 million (Draw Something), mobile transaction fees and new game marketing expenses. The company said in a statement "We are lowering our outlook to reflect delays in launching new games, a faster decline in existing web games due in part to a more challenging environment on the Facebook web platform and reduced expectations for Draw Something".
Zynga has plans to diversify into "male-oriented" games on both Facebook and mobile platforms. The company thinks this will give it more growth opportunities. In the following half of the year a new restaurant simulation game called Chefville will be launched and Farmville will be released in a new version with nicer graphics.
Zynga's largest shareholder is Morgan Stanley who have lost $60 million overnight 'on paper', following the publishing of the Zynga results. Facebook results are due when the US stock market closes tonight, investors are understandably worried, resulting in this pre-results eight per cent price dip. This will be Facebook's first full financial report since floatation. Investors feel tense, although expectations are already quite low due to the well publicised Facebook user migration to mobile and tablet apps.