Up and coming social network Pinterest was riding the crest of a wave of popularity until now. It was one of the fastest growing sites ever. However new figures show that this month active Pinterest user growth isn't just slowing, it's declining; in April so far Monthly Active Users (MAU) are down from 11.15 million to 8.3 million.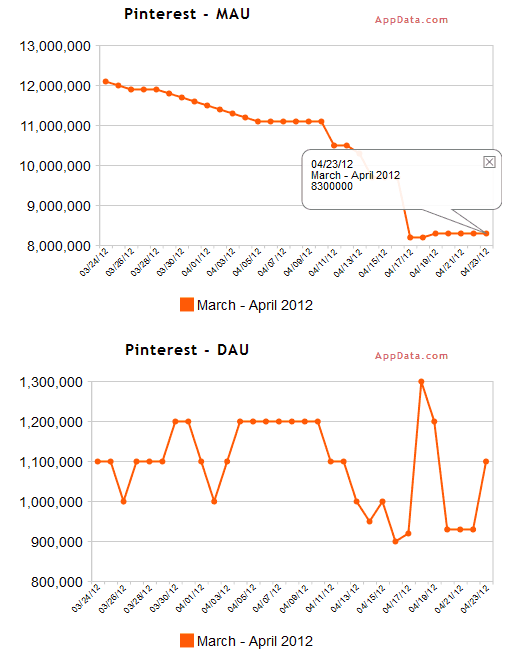 Graphs illustrating decline from AppData.com
The Pinterest site allows users to share things they like on a virtual pin board. A user will set up a pin board under topics of their own choosing and then populate the boards with things they like or are inspired by (usually pictures). The "Pins" can be shared and also you can follow other Pinterest users with similar interests, 'celeb' users or with friends and acquaintances. The most popular shared items seem to be pictures of food, fashion, exotic locations and cute things. The site and the pin board you create and share has a pleasant design and could be said to be prettier than Facebook or Twitter. The Pinterest site is most popular with females aged over 36 years.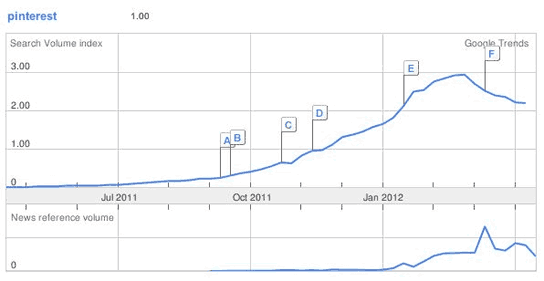 Becoming a Pinterest user is by invitation only but it's not a very exclusive club because it seems anyone who leaves their email address requesting membership will be granted it within a few days. Some commentators say that this artificial scarcity of membership invites helps create more demand for the service.
There are several reasons put forward for the current lack of Pinterest;
A large chunk of people interested in Pinterest tried it and now have decided it's not for them
The recent Pinterest site redesign is not so popular
An iPhone app update recently denied some Pinterest users access for a few days (app now fixed)
Is there room for another social network in many users' lives? I've tried Pinterest and found it preferable to Twitter because I like design and visual niceties. Pictures are the basis of most users pin boards. My wife's cooking blog is TaiwanDuck.com and even though TaiwanDuck has been active on Twitter and Facebook quite a long time it has had a lot more people come from Pinterest. However, food is a strong interest area for Pinterest users. In conclusion, after such a record breaking surge in users, I'd say that Pinterest is merely taking a breath before the climb continues. Chinese copyists definitely think Pinterest is onto something good!