Organic growth
While OLED (organic light-emitting diode) technology has been around for a few years now, it seems to have gained real commercial traction in the past year, with Q3 revenues almost double the level of a year ago.
Worldwide OLED revenues in Q3 reached $252 million, driven primarily by the boom in the high-end smartphone market. Of disproportionate significance to the OLED market has been Samsung Mobile Displays, which benefitted from Samsung Telecom's heavy promotion of AMOLED (active matrix) in its smartphones.
A principal benefit of OLED over traditional LCD technology is that it doesn't require back-lighting. Not only does this improve contrast and overall picture quality, but requires less power - a critical factor in battery-powered devices. A possible drawback, apart from cost, can be a relatively limited lifespan for the displays.
"While the mobile phone industry continues to suffer as a result of the economy, Samsung's marketing initiatives have propelled high-end AMOLED mobile phone demand to new heights," said Hiroshi Hayase, director of small/medium displays at DisplaySearch. "The company is forecast to maintain its lead in mobile displays in 2010."
Q3'09 OLED Market Revenue Share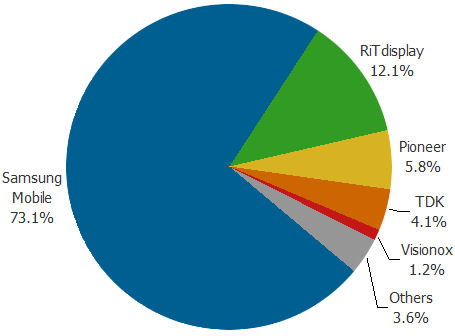 Source: DisplaySearch Q4'09 Quarterly OLED Shipment and Forecast Report