Today Qualcomm announced that it will buy Summit Microelectronics, a leading programmable power management solutions company based in Sunnyvale, California. Summit specialises in making power management chips for smartphones and tablets "combining precision power regulation with sophisticated digital control in a single chip". The financial terms of the deal have not been announced but the employees have all now joined Qualcomm's CDMA Technologies division.
Qualcomm, in acquiring Summit Microelectronics, has gained quite a lot of new power management technology and IP. Some of Summit's specialist products include battery chargers and single chip charger ICs. Also Summit has quite a few interesting MobileGreen technologies which are good compliments for battery charging. The Mobile Green tech "reduces environmental impact at all three phases of the product life cycle – but especially in the conservation of power during the 'usage' phase".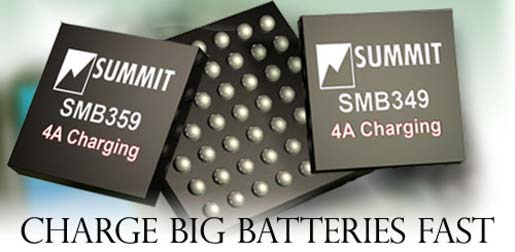 Summit Microelectronics TurboCharge and TurboCharge+ can reduce battery charge times by up to 50 per cent according to the company's literature. FlexCharge+ adds voltage detection so the charger function can react appropriately to power source variables such as mains charger power or USB charging. Summit Microelectronics also provides electronic designers with their free PowerDesigner software to aid designers in utilising their programmable power management ICs.
Steve Mollenkopf, Qualcomm's president and CEO, said of the deal "This acquisition enhances the competitiveness of Qualcomm's chipset solutions and enables us to provide our customers with industry leading power management and charging performance". Qualcomm already had power management ICs (PMICs) on offer within their portfolio of chipsets.
Qualcomm was also in our news last Wednesday as it was reported the company was working hard with chip foundries to meet the big demand for its 28nm ARM based Snapdragon processors.