Apple Inc. (NASDAQ:AAPL) shares are currently up 9 percent in pre trading on the strength of the company's better than expected profits. The main source of the extra profit was due to strong sales of the iPhone and iPad.
Apple's second quarter has been a great success with sales of 35 million iPhones and nearly 12 million iPads. That's a lot of premium priced gear to shift. A big boost to iPhone sales came from numbers of units sold in the Far East, notably China. iPhone sales have increased 88 per cent year on year. Sales figures for Apple computers came in at approximately 4 million units while the iPod is in decline at 7.7 million sold which is a reduction of 15 per cent on last quarter.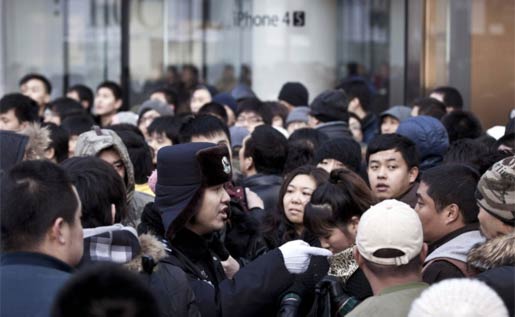 You're not having one
Looking at revenue, Apple took in $39.2 billion and made $11.6 billion profit. The gross margin was an incredible 47.4 per cent, up from 41.4 per cent last year, largely due to a reduction in commodity costs. Goldman Sachs has raised Apple's 12 month share price target to $850. With shares currently at $560 (but $613 in pre-trading, the NASDAQ hasn't opened for trading as I write this) that shows a lot of confidence in Apple's continued rapid growth. According to Reuters, 22 analysts rate the stock "strong buy," 23 rate it "buy," seven rate it a "hold" and only one rates it as a "strong sell."
Looking at the big picture, Apple is doing extremely well in this recession and amongst strong competition. The iPhone 4s is still a strong seller, especially in Asia, though consumers in other regions may now start waiting for the iPhone 5 to arrive. The iPad is a little behind expectations but the supply is a big problem rather than the demand. Apple Mac computer popularity grows steadily with a refresh due in the range shortly. The iPod, along with all dedicated MP3 players, suffered a predictable decline.
Concerns looking ahead for Apple are in the continued dwindling of iPod sales and saturation combined with stronger competition in the smartphone market.