Growing pains
UK low-power chip design outfit ARM reported another strong quarter today, with revenues up 26 percent and profits up 35 percent year-on-year. At time of writing, however, ARM's London-listed shares were down by over three percent (although fluctuating significantly), perhaps due to an outlook that merely anticipated 'normal seasonality'.
"Influential market leaders are licensing ARM technology to gain access to a growing ecosystem of operating systems, software applications, tools and service providers," said CEO Warren East. "Many of these companies have been ARM licensees for many years, and are now deploying ARM technology across a multitude of applications; in mobile, consumer electronics and embedded devices.
"This licensing drives ARM's long-term royalty opportunity. Shipments of ARM-processor based chips increased 33% on the same period last year driven by growth in smartphones, tablets, digital TVs and microcontrollers. ARM's revenue growth enables us to continue to invest in innovative technology development at the same time as delivering strong increases in profits and cash flow."
Q1 2011 - Financial Summary

Normalised*

IFRS

Q1 2011

Q1 2010

% Change

Q1 2011

Q1 2010

Revenue ($m)

185.5

143.3

29%

185.5

143.3

Revenue (£m)

116.0

92.3

26%

116.0

92.3

Operating margin

42.5%

40.0%

25.0%

27.3%

Profit before tax (£m)

50.8

37.6

35%

30.5

25.9

Earnings per share (pence)

2.73

2.04

34%

1.57

1.47

Net cash generation**

62.9

43.8

Effective revenue fx rate ($/£)

1.60

1.55
ARM's revenues come from four main sources: licenses are one-off upfront fees charged when a company takes out a new license for a processor design, royalties are incremental revenues generated from the shipment of chips containing those designs. Physical IP refers to non-processor technology that you would typically find on an SoC, such as memory, and finally there are services, which include foundry process optimisation.
The long-term trend is for ARM to get an increasing proportion of its revenue from royalties, which is hardly surprising given the rapid growth of the mobile device market. As you can see from the slide below, royalties from the Cortex families, which are the most recent designs, are just starting to ramp up.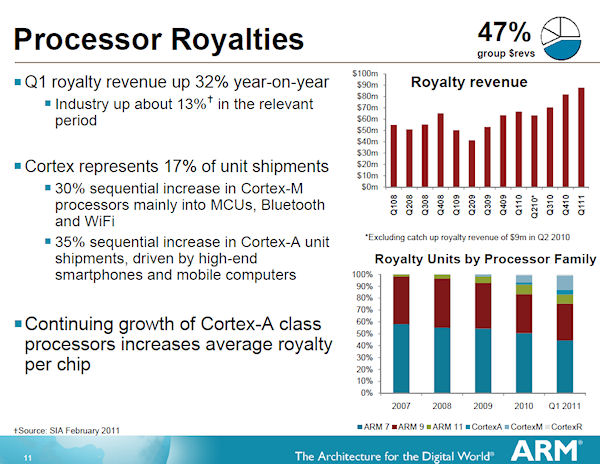 The discrepancy between ARM's healthy growth and the movement of its share price this morning is probably attributable to the lofty expectations attached to ARM thanks to the mobile device boom. Investors were presumably hoping for a more bullish outlook, but there are signs that growth in this market may be beginning to slow.