Nvidia's Q4 2012 financials are in and the company reported a year on year revenue increase of 16.1 per cent. Also full year revenue was up by 7.1 per cent to a record $4.28 billion. These are positive signs but there were a couple of wrinkles in the report which the company needs to pay attention to; Q4 2012 revenue was 8.1 per cent lower than that of Q4 2011. Also the current quarter's revenue forecast is lower than most analysts expected. Nvidia has pencilled in a figure of $940 million revenue in Q1 2013 whereas a figure $1.067 billion was expected by analysts. (Please note that Nvidia calls the first quarter of 2013 "the first quarter of fiscal 2014" and so on in its financial reports, whereas I'm using actual quarterly dates in the above summary)
Project SHIELD and NVIDIA GRID to be "new pillars for long term growth"
Jen-Hsun Huang, president and chief executive officer of NVIDIA spoke positively about the latest set of results "This year we did the best work in our company's history. We achieved record revenues, margins and cash, despite significant market headwinds." GPU and mobile processor businesses grew, helping the company's revenue grow. Huang pointed out that currently Nvidia is sampling Tegra 4 production silicon including a built-in 4G LTE modem.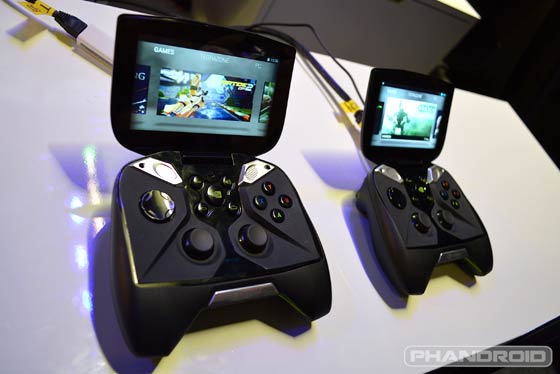 Looking to the further into future Huang said "...we created new pillars for long term growth with Project SHIELD and NVIDIA GRID - first-of-their-kind devices that will extend our leadership in visual computing into mobile and the cloud." HEXUS readers may be a little alarmed about that last statement as Project SHIELD hasn't really been a hit product concept with many of you.
Highlights of the last year
Nvidia noted the following highlights of the year past;
The Asus VivoTab RT, IdeaPad Yoga 11 from Lenovo, and Microsoft Surface RT were all launched and feature Nvidia Tegra processors
The Project SHIELD announcement, the console will ship in Q2 2013
Tegra 4 unveiling; its "the world's fastest mobile SOC and the first quad-core A15 SOC", processors should start to ship in July
Streaming gaming GRID technology
Nvidia Tesla K20 family of GPU accelerators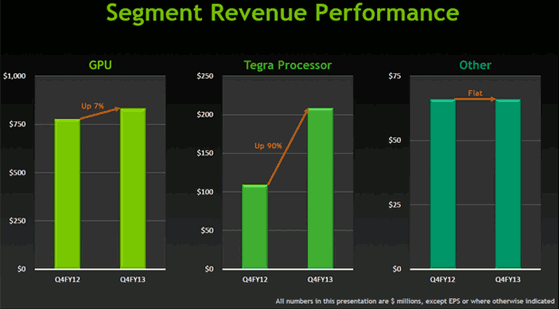 I think the chart above, from Nvidia's quarterly conference call, courtesy of ZDNet, helps highlight the growing importance of mobile processors to the company's profits. If the Tegra SoC success can stick to its current flight path, then things should be good for the green team. However, the already hotly contested, mobile processors market is going to get even more competitive in the coming year(s).