Good results for ARM Holdings pushed the value of ARM shares up by nearly nine per cent today. The company beat market expectations in its second quarter and half-year results this morning. Demand for energy efficient ARM microchips outstripped the rest of the semiconductor industry; Intel and Qualcomm had reduced their performance results in recent weeks so it was a surprise for ARM to buck the trend.
Q2 revenue was £135.5 million, up 15 per cent on 2011 figures, accompanied by an increase in profit of 23 per cent before tax, equating to £66.5 million profits. The growth was propelled by more and more companies building ARM processor technology into their devices. 23 new processor licenses were signed in Q2, also two billion ARM processors were made by ARM licensees bringing the company 14 per cent year-on-year growth in royalties.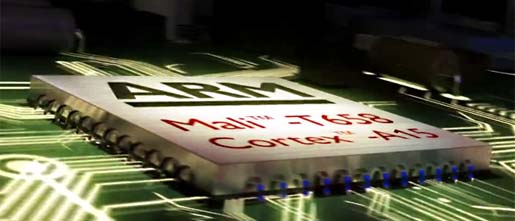 More cores = more royalties
ARM has been canny in growing royalty payments, the report states that "ARM's average royalty revenue per chip in Q2 2012 was 4.8 cents, up from 4.5 cents one year ago". Main contributors to the increase are the growing popularity of multi-core chips and higher royalties charged for Cortex-A and Mali graphics processors, both growing in popularity.
Extract of the key points from ARM's Q2 report
Progress on key growth drivers in Q2
Growth in adoption of ARM® processor technology
23 processor licenses signed across key target markets from microcontrollers to mobile computing
ARM's momentum in networking continues with an ARMv8 architecture license for intelligent networking applications, and Freescale announcing their first ARM-processor based chips for network infrastructure
Growth in shipments of chips based on ARM processor technology
2.0 billion chips shipped into a wide range of applications, up 9% year-on-year compared with industry shipments being down 4%
Processor royalties grew 14% year-on-year compared with a decline in industry revenues of 7%
Growth in outsourcing of new technology
3 Mali™ graphics processor licenses signed in Q2, of which two were with new customers for Mali technology
5 physical IP Processor Optimisation Packs licensed, enhancing ARM's royalty opportunity per chip
Warren East, CEO of ARM, made the following statement within the results report;
"ARM's royalty revenues continued to outperform the overall semiconductor industry as our customers gained market share within existing markets and launched products which are taking ARM technology into new markets. This quarter we have seen multiple market leaders announce exciting new products including computers and servers from Dell and Microsoft, and embedded applications from Freescale and Toshiba. In addition, ARM and TSMC announced a partnership to optimise next generation ARM processors and physical IP and TSMC's FinFET process technology.
All of these new products are the result of technology engagements over many years, and ARM's long-term commitment to invest in the development of innovative technology."
Outlook

Even in the light of these results and ARM having a record breaking order backlog, shares in ARM are considerably cheaper (526p after the rise today) than they were in November last year (647p). Something doesn't seem quite right there. ARM's expectations for Q4 are moderated by the common "macroeconomic uncertainties", which means they are tempered by the general economic well-being of the first world, major consumers of tablets, smartphones and Smart TVs etc.