Intel reported its second quarter results last night. The results for the quarter were better than it had expected but the company was cautious about Q3 stating "our growth will be slower than we anticipated due to a more challenging macroeconomic environment". Looking at the numbers, Intel brought in $13.5 billion in revenue during Q2, net earnings were $2.8 billion or 54 cents per share. The Q3 forecast is for revenue of $14.3 billion, though previous expectations were looking at a figure of $14.6 billion. Intel estimated growth in Q3 will be between 3 and 5 per cent rather than the earlier expected figures of "high single digits".
Macroeconomic worries equate to worries about a wavering global economy. In citing this as a major cause of lower expectations, perhaps Intel is suffering a little bit of self denial. Many analysts blame PC sales slowdown on content consumers preferring to use smart connected devices for their leisure activities, which would have previously required a PC. Intel's chips are installed in about 80 per cent of personal computers but the company is currently only a very minor contributor to the mobile/tablet market.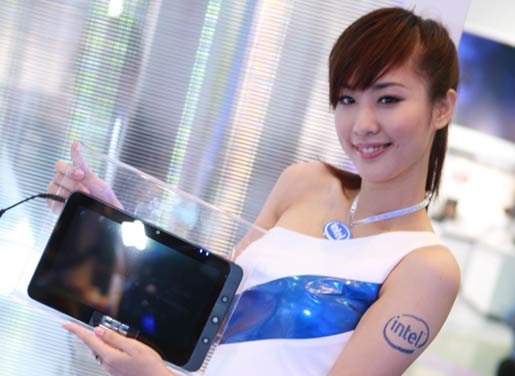 Last week rival PC chip maker AMD reported a Q2 decline citing European and Chinese sales. AMD have been reducing prices of their current CPU line-up using a cash back promotion to gain traction in the market. Also only two days ago, perhaps under pressure from rival NVIDIA, AMD cut prices on their high end HD 7000 series graphics cards.
Intel has got a lot of strategy in place for the future, whatever way the PC market goes. We reported only a week ago about Intel's large investment in ASML which should speed their moves into ever smaller process sizes and larger wafer sizes. Also last night Intel CEO Paul Otellini said 20 Intel powered Windows 8 tablets are being designed for the launch of Microsoft's new touch friendly OS. Microsoft's Surface tablets will also feature a pro version with an Intel chipset, though that model is expected three months after the ARM version Surface Windows RT launch.