Shrinking target
Intel held its investor day yesterday, and the biggest piece of news was that, in the next three years, Intel will shrink the manufacturing process for its low power Atom chip family from the 32nm manufacturing process, to 22nm, to 14nm.
The current 'tick-tock' processor roadmap model has Intel introduce a new architecture - such as Nehalem or Sandy Bridge - one year, then a process shrink - e.g. Westmere or Ivy Bridge - the next, and so on.
At the investor day yesterday Intel announced it's "accelerating SoC product design to double the pace of Moore's law," from which we're apparently meant to derive a doubling of the process shrink cadence - i.e. every year.
The slide below, which shows some new Atom design codenames we had yet to encounter, seems to be intended to illustrate that by showing a new 32nm chip called Saltwell, which will be launched next year, followed by the 22nm Silvermont in 2013 and the 14nm Airmont in 2014.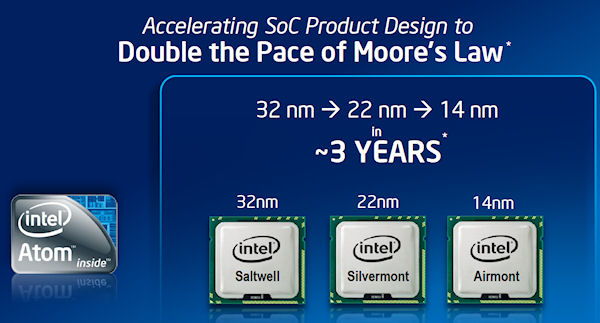 Clearly this is a process shrink every year, but Intel does seem to have used some smoke and mirrors to reinforce its claim. 32nm PC chips have already been available from Intel for over a year, and the Medfield generation of Atom chips - also 32nm - is expected to finally make an appearance in smartphones early next year.
Furthermore, according to Intel's own tick-tock cadence, PC/server chips are expected to be launched in 22nm form at the beginning of next year, so the Saltwell chip will still be a node behind Intel's most advanced chips. By the time Silvermont comes along in 2013, 32nm chips will have been on the market for three years and 22nm one for a year, so that doesn't represent any acceleration of Moore's law.
So that brings us to 14nm and Airmont. In 2014 tick-tock dictates Intel will launch PC/server chips on the 14nm process anyway, having been at 22nm for two year. So all the low-power roadmap will be doing is getting into line with the rest of the chips when it moves to 14nm in 2014, unless we're missing something here.
Anyway, that will still probably put Intel ahead of the ARM ecosystem, although Qualcomm's 28nm Snapdragon generation is expected to start appearing in devices in the first half of 2012. Combined with its Tri-Gate transistors, Intel is counting on its manufacturing and process technology might to overcome any disadvantages its architecture has in the low-power segment.
Elsewhere, it has been extensively reported (Intel hadn't made the recordings available at time of writing) that software and services VP Renee James revealed that the next version of Windows, which will support ARM chips, will in come in two flavours - an x86 and an ARM one - and that the latter won't support legacy applications.
"On ARM, there'll be the new experience, which is very specifically around the mobile experience, specifically around tablet and some limited clamshell, with no legacy OS," said James. "Our competitors will not be running legacy applications. Not now. Not ever." Furthermore, Intel will support ARM-flavoured Windows 8, so James reckons that puts Intel at an advantage.